Marla Porter
Volunteer Spotlight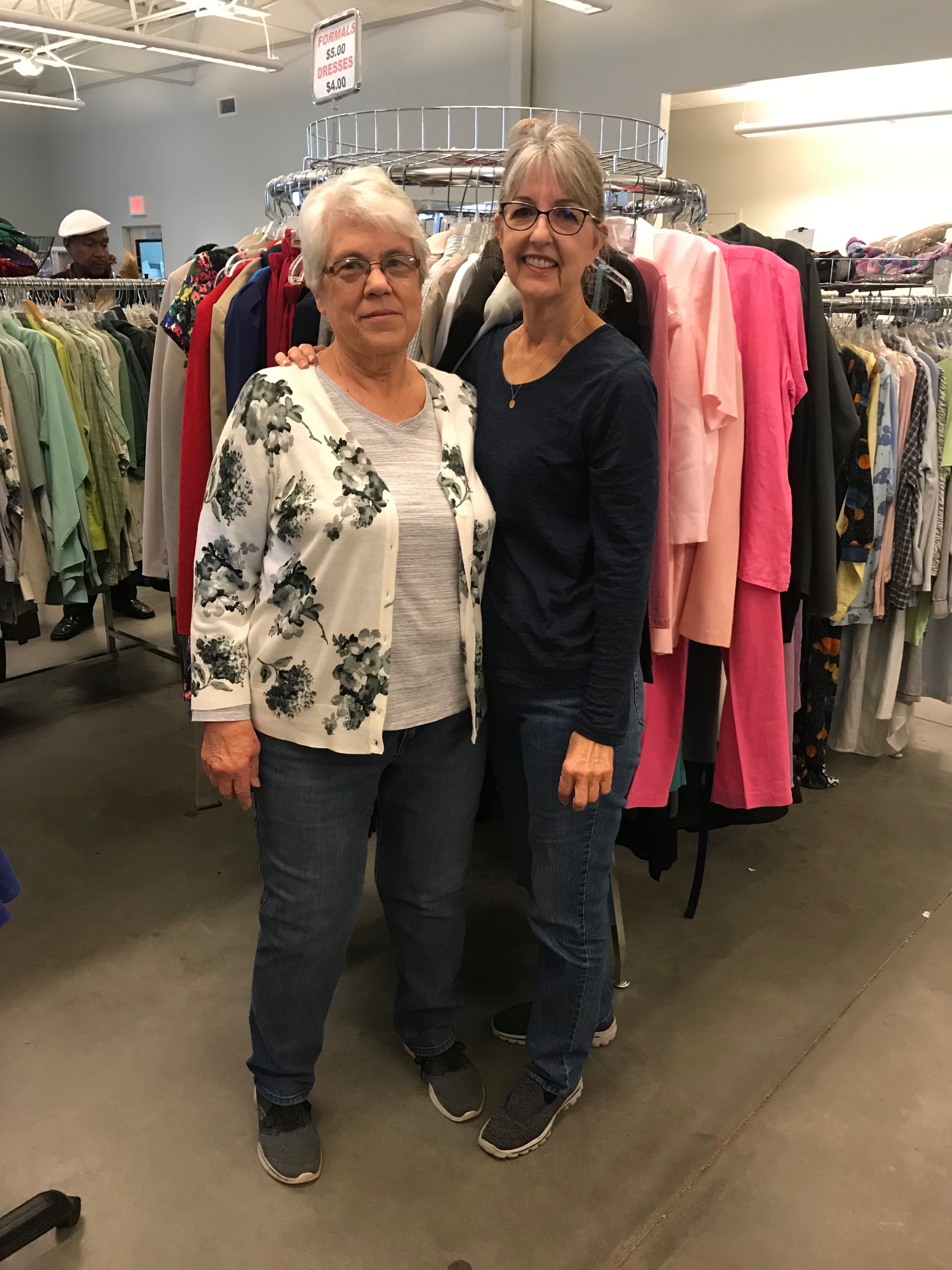 Marla Porter (right) and Susan Able (left)
It's a Wednesday afternoon and Marla Porter is leaving the Cross-Lines Thrift Store balancing an armful of items that might include a stained children's coat she plans to treat and wash, several vases to return to the local florist, and a sweater that is missing a button that she can skillfully sew back on. No one has asked Marla to do these things, but her years of Thrift Store experience have helped her to see how a little extra time and care might help these donations sell and save them from the trash.
For nearly ten years, Marla has dedicated one day a week to processing, sorting, and hanging clothes in the back room, doing her best to keep up with the endless flow of donations.
"I've organized my whole life around Wednesdays," said Marla.
Before settling in as a regular Thrift Store volunteer, Marla would visit the Cross-Lines campus with her parents to deliver boxes of food to the Food Pantry or drop off bags of clothes and other donations at the Thrift Store.
It was during one of these routine visits that Marla remembered noticing an old woman sorting donations by herself, unable to walk, and clearly overwhelmed by the mess of donations surrounding her. Sensing the need for help, Marla signed up as a weekly volunteer with the Thrift Store.
Marla is a master gardener and has a background in horticulture, making her an irreplaceable volunteer at the Spring Dig Plant Sale fundraiser for Cross-Lines.  It's in the Thrift Store, however, that Marla makes a regular impact, utilizing her attention to detail and organizational skills to guide new volunteers and make the Thrift Store a better place to work and shop.
"Everyone deserves to have a nice, clean, organized experience," said Marla. "That's why I'm so picky. If it's clean and organized, people want to buy stuff."
In her time at the Thrift Store, Marla has seen many volunteers come and go, seeing firsthand how a lack of regular volunteers affects the Thrift Store experience from beginning to end.
"We need help," said Marla, identifying numerous reasons as to why interested volunteers should get involved. "You can save money by shopping here and people that work here get first selection. Plus, you can save stuff from going into the landfill."
Marla also deeply values the friendships she has made with other Wednesday volunteers. It's the people and the purpose that keep her coming back – the volunteers she gets to work alongside and the shoppers that are served by the Cross-Lines Thrift Store.  
"You really are helping a whole community of people," she said.
To get involved, contact Volunteer Manager, Roxanne Vega; Roxanne@cross-lines.org