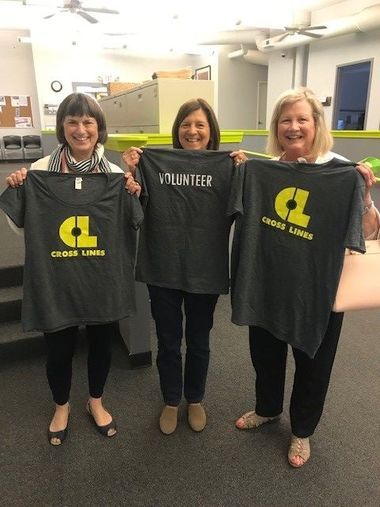 Welcome, Volunteer!
Cross-Lines utilizes over 1500 volunteers each year to help our community members in need. We have a variety of volunteer areas to fit your availability and interests, and we'd love to find an opportunity that fits you! Please see our Volunteer Opportunities PDF below for a description of our volunteer areas.
First-time volunteers: To begin, please complete our online volunteer application by clicking on the button below. We will be in contact soon to schedule your volunteer experience!
Returning volunteers: Skip the application and contact Christina to coordinate your next visit!
We are not taking court-ordered community service volunteers at this time. Please check back on September 1.
Summer Groups
Looking to schedule a volunteer day(s) with a group this summer? Use this link instead!
Questions?
Curious about what size group you can bring to volunteer? Wondering what time commitment is expected of Front Desk volunteers? Interested in learning more about the age limits or physical requirements of each position? Check our Volunteer Manual first! All your questions are answered below.
Please contact our Volunteer Coordinator, Christina Hofer, with any additional questions or concerns at christina@cross-lines.org or (913) 281-3388.