The Freds
Volunteer Spotlight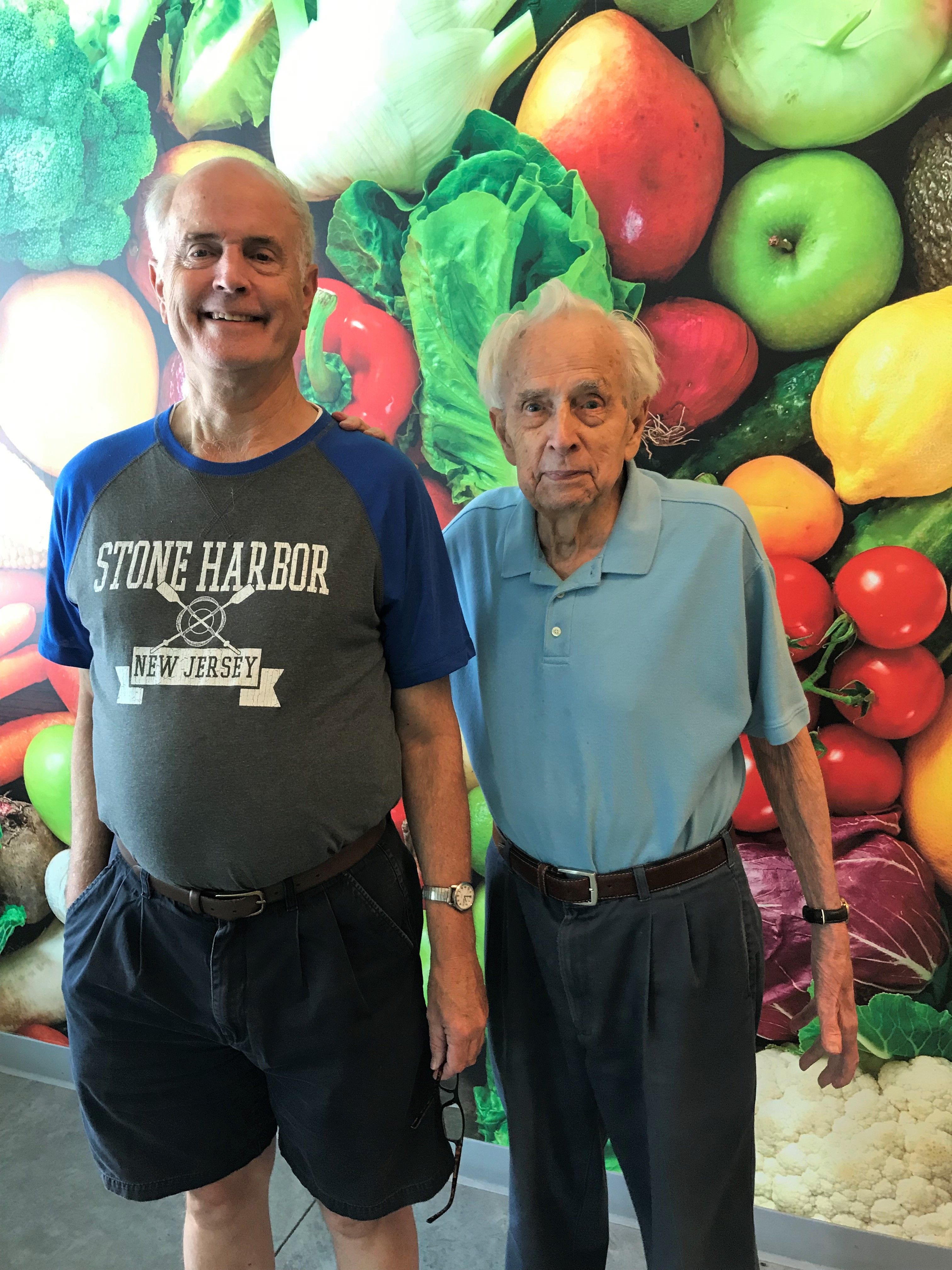 Fred A. (left) and Fred O. (right) Desieghardt
It's a Tuesday afternoon and Fred O. Desieghardt can be found in the Cross-Lines Food Pantry, his large, wrinkled hands tenderly transferring eggs, one by one, into six-count cartons.
"I'm getting beyond the age when volunteering is easy," he said, carefully latching the Styrofoam carton. At ninety-four, he is uneasy on his feet but has been entrusted with some of the most fragile volunteer tasks, repackaging eggs and cutting and bagging bread with extreme care.
For at least twenty years, Fred O. has been volunteering with Cross-Lines, serving with his church, Knox Presbyterian, in the Community Kitchen, assisting with the Christmas Store, and lending a hand when Cross-Lines finds itself in a rough place, like during a flood. Just this past year, his son, Fred A., joined him in the Food Pantry and the friendly pair quickly became known as "The Freds."
"You know you're old when your son is on Social Security," said Fred O. with a smile.
The Freds are incredibly close, living in the same retirement community and maintaining regular contact so that Fred O. can support his son's disability as needed. They share a love for travel and Royals baseball, even taking a trip to Surprise, Arizona in past years to watch spring training practices.
In 1982, Fred O. met with a handful of parents of children with disabilities to discuss the resources their children needed and how to insure those needs were met when family assistance was no longer available. With his son in mind, Fred O. and the other parents founded Arcare, a nonprofit "designed to make certain that individuals with a disability would receive caring, planned, professional support throughout their lives." Establishing the nonprofit remains Fred O's proudest moment and gives him considerable comfort knowing his son is in good hands.
The Freds volunteer for the Cross-Lines Food Pantry every Tuesday afternoon, engaging Cross-Lines staff, volunteers, and clients in conversation and working in tandem to complete their regular tasks before saying their goodbyes.
When asked why he has chosen to volunteer with Cross-Lines all these years, Fred O. takes a long pause, his blue eyes filling with tears. "Because I'm one of the more fortunate people so it's what I ought to do," he said. "If you are a Christian, this is how you do life."