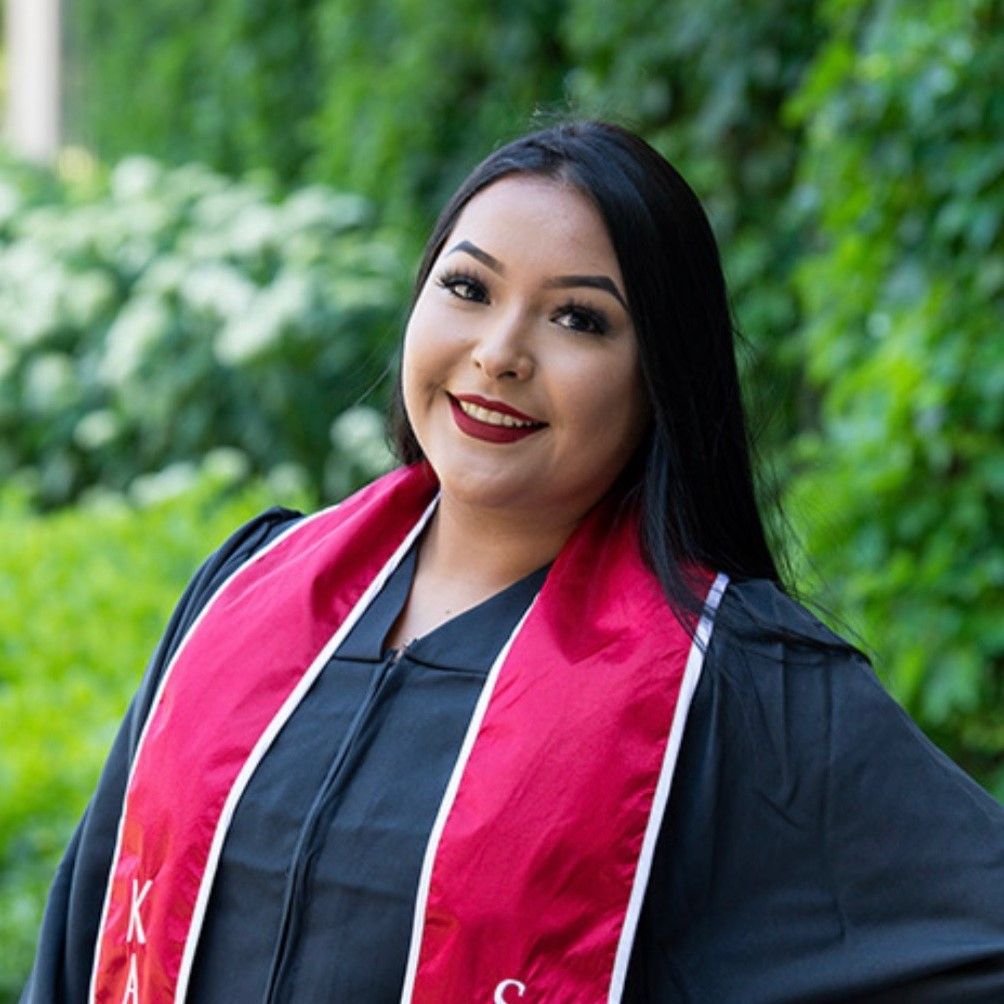 Roxanne Vega had already started her internship, the capstone of her Bachelor of Health Sciences degree at the University of Missouri - Kansas City, when the pandemic hit. 
Her placement was within the University of Kansas Health System and she was assigned to travel to different clinics in the area and log medical equipment. It was a poor fit for Roxanne, who wanted to do more important, hands-on work in the community. When COVID-19 began to close schools and businesses, it offered Roxanne the unexpected opportunity to leave the internship and try something else.
"Due to them having patients in the hospitals and clinics, they didn't want to put us at risk," said Roxanne. "So, they had to let us go."
Roxanne was presented with several different opportunities to complete her internship hours and receive her degree. She chose Cross-Lines.
"I heard what population they were serving – which was my area of interest in college – so I decided to come," said Roxanne. "I could already tell by the first few days being here that it was going to be a good experience. I was more welcome here than I was [in my last placement]."
When Roxanne started volunteering with Cross-Lines in April, the pandemic was already affecting local families and Cross-Lines was in desperate need of volunteers. Roxanne and another UMKC student, Louisa Nylander, stepped in wherever needed and provided essential volunteer help.
"I volunteered for about two months and did over 100 hours," said Roxanne. "I put food in bags, packed Commodities boxes, helped in the kitchen, cleaned the kitchen, and made hygiene kits. I did pretty much everything!"
Although Roxanne enjoyed volunteering at Cross-Lines, this period of time was not without its challenges.
"Pretty much all I had money for was to put gas in my car and food in my fridge," said Roxanne. While volunteering, she also avoided visiting home so she wouldn't risk exposing her high-risk mother and grandmother to the virus.
Over time, Roxanne became a familiar face at Cross-Lines. Rob Santel, Client Services Director, began to recognize that her skills and passion for serving families in need made her a natural fit at Cross-Lines. When a bilingual Case Manager position was created later that summer, Roxanne was a top candidate to get the job and joined the Cross-Lines staff on August 11.
"Honestly, it felt good because I already knew the people and the work environment, and I already knew it was going to be comfortable," said Roxanne. "I thought I wanted to work at a big hospital or a big business, but I don't really think they care for you like a nonprofit or small business. It feels more like family than coworkers [here]." 
As a Case Manager, Roxanne works within the Housing Stabilization team and helps clients with utility and rent payments. Due to the pandemic, almost all her interactions with clients are over the phone and many of the people she helps have been affected by the pandemic in some way.
"I have two to three screeners, or appointments, a day," explained Roxanne. "These appointments are just to get to know the client and their situation. After I receive all their documents, I talk to their landlord, BPU, or other utility places. Then I am able to file the amount we can commit to help with their bills."
Since the pandemic started, the case management team has grown to include four full-time staff and two interns. They receive a large number of applications each week – more than they can serve – and have to make the difficult decision of prioritizing clients based on their level of need.
"I've had bad screeners, but that's nothing compared to the good screeners," said Roxanne. "Yesterday, there was this lady that was super nice. A different one cried to me because she was so grateful – that's what makes it worth it."
When not talking with clients at Cross-Lines, Roxanne can often be found doing nails for friends, family, and neighbors. Thanks to her loyal following, she has been able to stay busy and has even considered going back to school for her cosmetology certificate.
"It's something I'm thinking about – starting my own business," mused Roxanne. "I would like to encourage other people to do nails, too, especially if they don't think school is for them." Roxanne's neighborhood is lower income and she regularly has girls reaching out to her who want to learn more about the craft.
"I'd love to have a place where I have desks open so they can be there for a few months, build clientele, and get experience."
Like many of us, Roxanne's plans for the future have been greatly impacted by the pandemic, but has also opened up doors that she never expected.
"I would have thought I'd have been in a hospital with a lot of nurses," said Roxanne. "My goal was to become a nurse. I definitely now see myself more being my own boss – which I love."