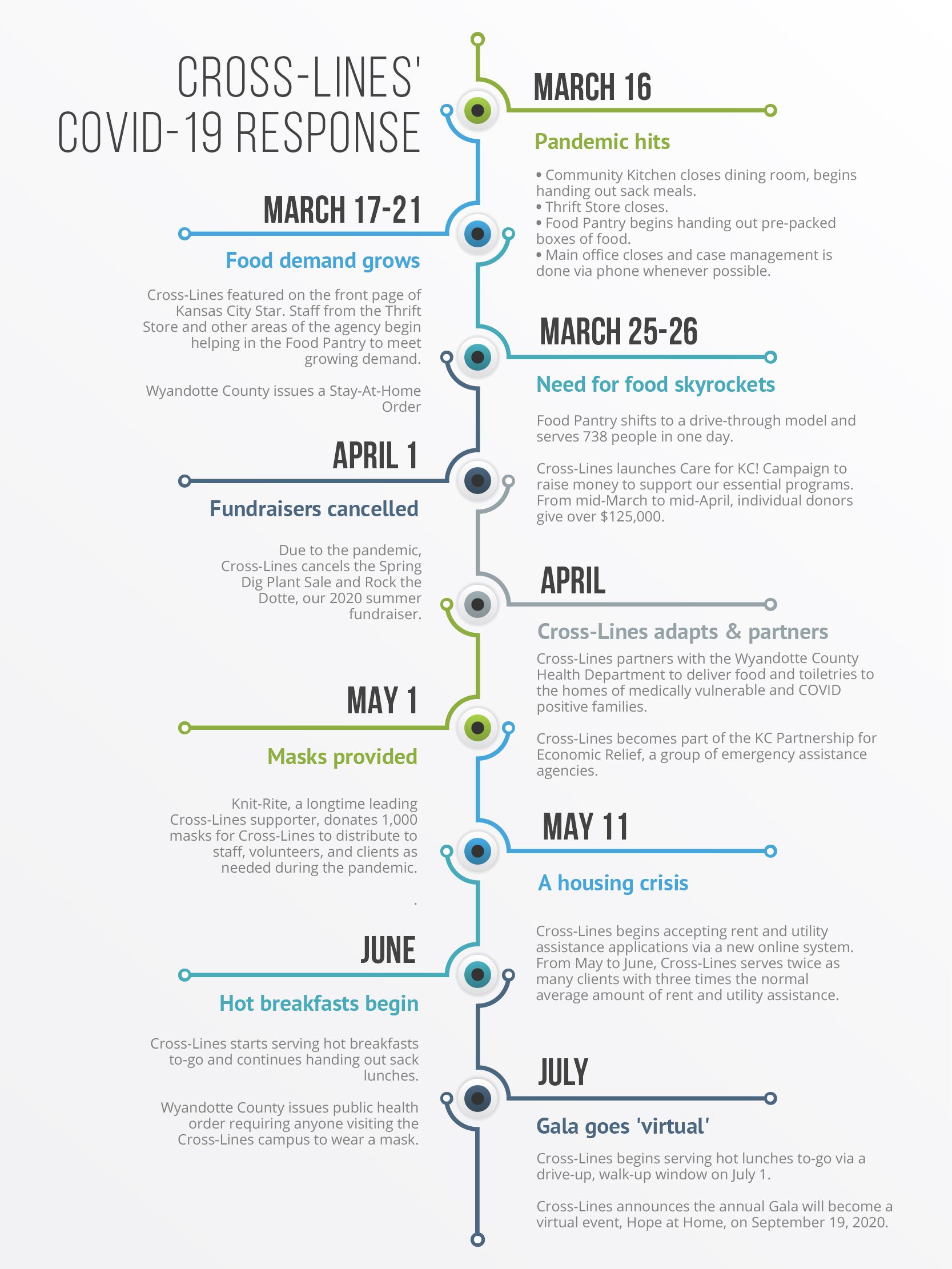 "Hope -- Hope in the face of difficulty. Hope in the face of uncertainty…In the end, that is God's greatest gift to us...A belief in things not seen. A belief that there are better days ahead."
It's easy to become overwhelmed and feel hopeless right now. Every day, we are bombarded with bad news. The pandemic. The economy. Unemployment. Hunger. Evictions.
While the needs are greater right now than ever before in our history, Cross-Lines is bringing hope to thousands of the most vulnerable people in our community. And the reason we are able to do that is because of supporters like YOU!
Much has changed at Cross-Lines in the months since the pandemic began in March and since our last newsletter went out to you. Wyandotte County has been hit particularly hard and continues to be a hot spot for COVID-19 cases in the Kansas City metro area.
Throughout this time, with your support, Cross-Lines has kept our doors open. Other agencies temporarily closed, putting even more pressure on Cross-Lines to meet the needs in the community.
Early on, we saw growing numbers of local people affected by the pandemic and related unemployment. We knew that a tremendous wave of need was coming. We quickly reached out to you, our loyal supporters, to help in March. Our major donors pitched in $50,000 to serve as a match challenge. Generous individuals gave $125,000 in donations in the first month of the pandemic. THANK YOU!
It's been a truly challenging time for Cross-Lines. Our staff of 14 has pitched in and pivoted whenever necessary to help where they were most needed, regardless of job titles. Without many of our 1,800 volunteers able to come serve, it has been an overwhelming task.
In the early days of the pandemic, we focused most on our hunger relief services. The surge in need in our Food Pantry has been remarkable. From March 15 to mid-July, our Food Pantry distributed more than 189,000 pounds of food. On March 25 alone, the Food Pantry served 736 people in one day. Cars lined up in the drive-through pantry we created overnight. The pantry continues to serve more than twice the number of people we did last year. Since the beginning of 2020, we have served almost 14,000 people. In ALL of 2019, we served 11,000 people.
Though we aren't able to have our Community Kitchen dining room open, we have continued to provide sack meals every day. On July 1, we began serving takeaway hot meals at lunch with the help of volunteers. With the ingenuity of our staff who created a plexiglass drive-through/walk-up window, we are keeping everyone as safe as possible.
On May 11, our Housing Stabilization program began to help provide clients with services and emergency assistance with rent and utilities. On June 1, BPU began disconnecting utilities – including water – despite the ongoing nature of the pandemic. Eviction dockets started up again in the Wyandotte County courts in June. While many vulnerable individuals and families are still unemployed and struggling to find work, their bills are piling up more than ever before. Many people are now facing eviction and homelessness without intervention. Our Housing Stabilization team is working tirelessly to help. We have served twice as many people and provided three times the amount of emergency assistance as we normally do since May.
In an effort to meet those growing needs, Cross-Lines has formed more collaborations and new partnerships with other agencies than ever before. In April, we began to work with the Wyandotte County Health Department to deliver food and toiletry boxes to the homes of local citizens in need who either were medically vulnerable, had tested positive for COVID-19 or were presumed positive and were quarantined in their homes.
Cross-Lines is part of a multi-agency collaboration focused on preventing and diverting at-risk families from the homeless system. Cross-Lines was identified as a leading agency in Wyandotte County and has been included in the decision making process for the KC Partnership for Economic Relief. This partnership includes several metro area emergency assistance providers, social service agencies, and the Greater Kansas City Coalition to End Homelessness.
We are working hard to meet the needs of the community. We have applied for multiple grants from both private foundations and government sources. We appreciate your support and we are making the most of your investment in our work. 
When the pandemic forced us to close our Thrift Store in March, we were shifted staff from the store to other areas of our agency where they were desperately needed to help serve the community. As we work to meet the greatest needs in the community, we decided to keep the Thrift Store closed through the end of the year and evaluate its future at that time.
The pandemic has hit Cross-Lines hard. We had to cancel key fundraisers including our Spring Dig Plant sale and our new summer event, Rock the Dotte. Recently, we had to make the difficult decision to change our annual Gala, our biggest fundraiser, to a virtual event. The virtual gala, Hope at Home, will be a critical source of income to support our work and we are hopeful you can help us make it a success. 
The capacity of our current staff is strained. We still really need your support. Yes, the challenges can feel overwhelming at times. But we know we can do it with you, our caring supporters by our side. Our clients are depending on us. The need is greater than we have ever seen in our history. Working together with your support, Cross-Lines will remain a beacon of hope through this difficult time.