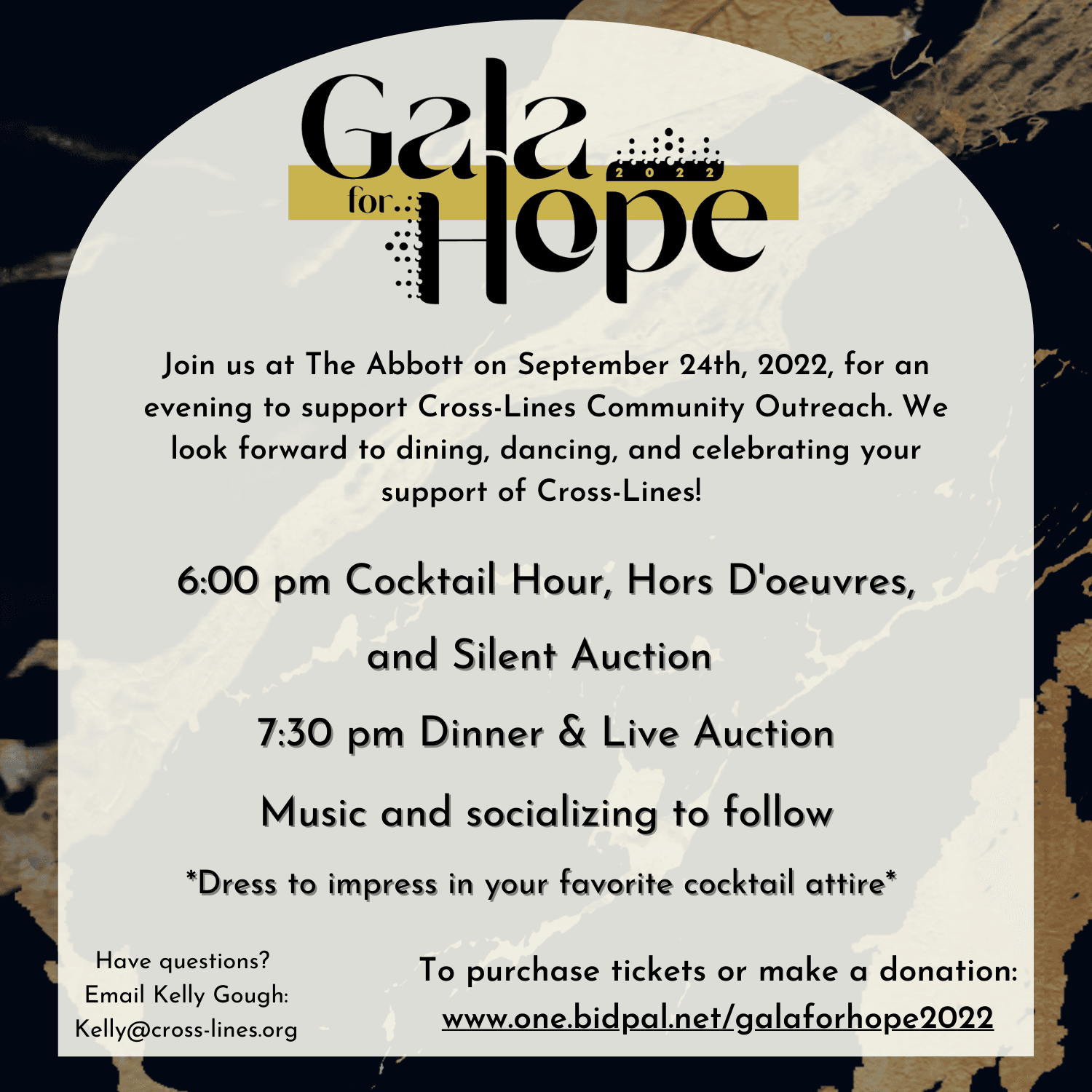 Cross-Lines' Announces Plans for Gala for Hope 2022
We are busy working on our annual fundraising event for 2022! We are looking forward to gathering once more at the beautiful and historic Abbott event space in the KCMO Crossroads District! 
This year, Gala for Hope will be held on Saturday, September 24th, 2022 at the incredibly beautiful event space, The Abbott in the KCMO Crossroads Arts District. Guests will enjoy a delicious dinner prepared by a respected local caterer, an open bar, an engaging program, and compelling video featuring the incredible work happening at Cross-Lines.
As always, our event will include Live and Silent Auctions led by a skilled and entertaining auctioneer to raise crucial funds for Cross-Lines. While the silent bids will be mobile, the Live Auction will only be available to guests in the room!
Following the Program and Auction, guests are invited to dance the night away and enjoy cocktails from the open bar while our excellent DJ plays the hits, old and new!
Not able to attend in person? Not to worry! Silent auction items will be bid on virtually (by those in attendance and at home) and the night's program will be available for viewing online following the event. 
How YOU can help us: We need items for our auctions! If you would like to support Cross-Lines by donating items to the silent or live auction, please contact Kelly Gough Moran at kelly@cross-lines.org for more information.
Check out ideas for items to donate HERE! 
BUY TICKETS and register for the Auction HERE
Sponsorships: We will have new and unique sponsorship levels this year! Sponsors are vitally important to reaching our fundraising goal. If you/your company or someone you know is interested in sponsoring this super fun and unique event, please contact Kelly@cross-lines.org
THANK YOU for supporting Cross-Lines! We look forward to seeing you at the Gala!